IK2OFO JN45NK QRT
Hello OM, unfortunately, from November 1, 2011 announcement that my station is JN45NK QRT. I stripped the system that had given me so much satisfaction and I had permission to do so many observations and QSOs. I thank everyone I have linked in recent years and how many I have tried to prove the connection, then a thank you to those who have followed this site. The farewell is the new QTH, where I hope to return operational sure we can connect again, probably even more interesting about this post ... '73 Robert de IK2OFO
QTH JN45NK 45° 26' 31.69" N 9° 7' 40.93" E
IK2OFO JN45NK QRT DAL 01/11/2011
Dall'immagine di GoogleMaps non si vede ancora l'impianto di antenna che è stato realizzato a partire da gennaio 2008.
Image GoogleMaps still you see the antenna system which was implemented from January 2008.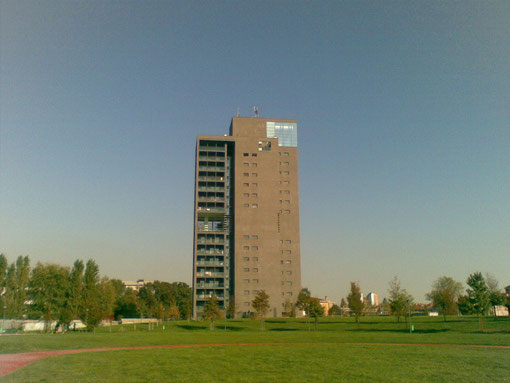 Dal 2007 abito in questo condominio "cercato" anche per la splendida posizione ai fini dell'attività radioamatoriale. E' alto 70 metri e presenta un tetto piatto dove riesco a lavorare in piena sicurezza nella realizzazione degli impianti di antenna; con il traliccio e il mast le antenne sono a 76 metri dal suolo senza alcun ostacolo nelle vicinanze su tutti i 360°.
Since 2007 I live in this building "searched" and the beautiful location for the purpose of amateur radio. E '70 meters high and has a flat roof where I can work safely in the creation of radio antenna,  the mast antennas are 76 meters above the ground without any hindrance  of all the 360°.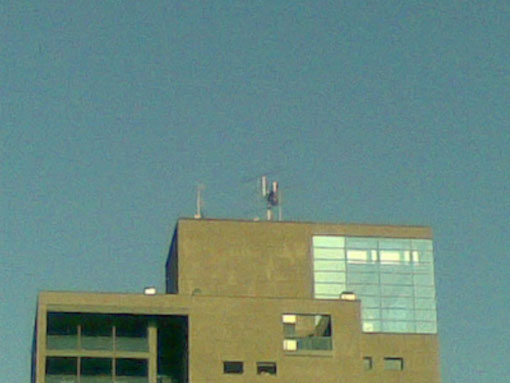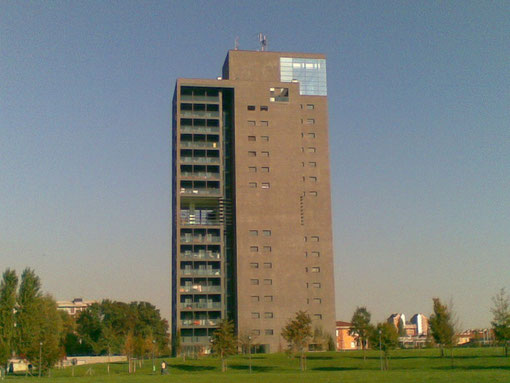 La mia abitazione è all'11° piano, poco oltre la metà della torre, questo comporta, purtroppo, una lunghezza per la linea di discesa di oltre 60 metri;
pur utilizzando cavi a bassa perdita Celflex 1/2", Ecoflex 10 e Aircell 7, la perdita lungo la linea è eccessiva. Ho pertanto realizzato la stazione tutta in remoto, dai 70 MHz a salire, con la media frequenza a 28 MHz.
My house is on the 11th floor, just over half of the tower, this means, unfortunately, a length for the line of descent of 60 meters;
while using low-loss cables Celflex 1 / 2 ", Ecoflex 10 and Aircell 7, the losses along the line is too great. I have therefore made the whole station remotely, from 70 MHz to rise, with the  IF to 28 MHz